The Loess Hills chapter of Wild Ones promotes native
landscapes in Iowa, South Dakota, Nebraska, and beyond.
Upcoming!



Seed & Social @ Bill & Dotty's Prairie Hills




Saturday, October 15, 2022, 1-4 pm




15384 N Ridge Rd, Westfield, IA 51062



Experience High Quality Iowa Loess Hills Original Prairie!
Help collect seed for local prairie restoration.
Keep seed samples of any species you want.
Observe results of ongoing restoration & reconstruction efforts!

Bring pruning shears, gloves, water, & dress appropriately for walking through high prairie grasses. 
For those of differing abilities, there will be a John Deere Gator, or come at 3:30 for theà
Social, snacks, & beverages following harvest.
RSVP or Weather Questions–712-540-0952 text or call.
THANKS, WILD ONES!!!!
Dotty & Bill

Our Fall Plant Sale SOLD OUT!
Thank you to EVERYONE who volunteered or participated!
If you have a Wish List, Please let us know for the Spring Plant Sale!
Click HERE for 2022 Marcie's AWESOME August plant details with photos!


__________________________________________________________________________________________________________________________
Our featured recorded programs:
2022 Spring Plant Sale:  "Meet the Plants!"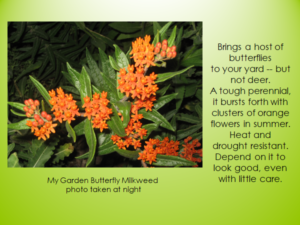 Dawn Snyder, Woodbury County Education Programs Director, takes us on a virtual tour of the Fabulous Wildflowers in Fowler Forest.  Dawn has tons of fun facts about our native Spring Ephemerals.  After being inspired by Dawn, you might just want to take a drive and check out the wildflowers for yourself.
---

"Grow and Tell"
April 11, 2021
Thanks Becky & Dianne!

---
March 2021
Thanks Michelle!
---
February 2021
Thanks Dotty & Dave!

---