The Loess Hills chapter of Wild Ones promotes native landscapes in Iowa, South Dakota, Nebraska, and beyond.
---
Upcoming Event:

"Rain Gardens"
with Julie Perrault
April 16th 2-3PM
LIVE at the Sioux City Library
529 Pierce Street
Sioux City Iowa
---


"Meet the Plants &


Rollout of the Grants"



Sunday March 12th was
LIVE at the Sioux City Library and SO much FUN!
We shared an informal presentation of the Spring Native Plant Sale and
Grants that will be available for Members and Non-Profit organizations
Photo and many slides from Dianne Blankenship–Thank You!
---
Sarah Nizzi from Xerces Presented:
Sarah Nizzi with the Xerces society helped us learn about the steps to take in conserving and supporting pollinators at home.
Big or small, every conservation effort counts!
Sarah covered the habitat needs of pollinators, site preparation, plant selection, and more!
---

Thank you Barry, this was amazing!
"Roots of the Past;


Rooting for the Future"


was hosted Sunday

January 8th, 2023
Barry Mateer shared his observations and ventures since returning to his childhood farm home after 40 years of teaching in Nepal and Japan. The discovery of two sets of 2nd great-grandparents on land abstracts set off a series of quests to help ensure native plants, birds, and pollinators could have a safe haven on the land which settlers first claimed in 1851
---
We had SO much fun at Winter Fun Day December 10th!
Thank you to all who participated!

'Seeds-N-All' (Get it?)
Party and Wreath Make & Take!
We shared Food! Fun! Festivities!
---

What a HUGE success!!
Thank you
to EVERYONE who attended the:
2022 Seed Share and Annual Meeting


We shared a brief recap of our year, and voted on our Officers for 2023!
We received Native Seed Planting Suggestions,
& Propagation Techniques such as Winter Sowing and Native Crop Circle Sowing.
We met fellow seed enthusiasts!
We gained NEW members!
Thanks, Dianne for the great photos and descriptions from 2020! Check those out HERE!
LHWO Seed Share 2022 Plant Table
Prairie Moon Germination Codes
---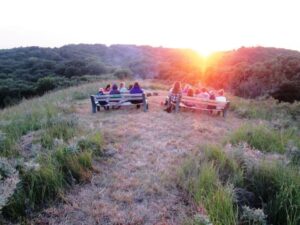 Thanks  for the Tour of Stevenson's Tract led by James Baker, Western Iowa Land Steward for The Nature Conservancy. 
We looked at the Joy Hollow complex, including the woodland area and adjacent hillside prairie, and discussed the future restoration plans for the property. Immediately after the tour everyone was invited to socialize at a nearby private residence. Chili and Cinnamon rolls were served, and two cozy fire pits were available!
Stevenson's Tract is located on Butcher Road which intersects Hwy 12, approximately 14 miles north of the Dorothy Pecaut Nature Center.
Co-hosted by Iowa Prairie Network, Loess Hills Wild Ones, and Northwest Iowa Group Sierra Club.
---
Thanks, Dotty and Bill. We had so much fun!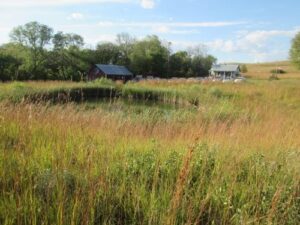 We learned so much with our:
Seed Collecting Education & Social @ Bill & Dotty's Prairie Hills
Experienced High Quality Iowa Loess Hills Original Prairie!
Helped collect seed for local prairie restoration and gardens.
Kept seed samples of many species.
Observe results of ongoing restoration & reconstruction efforts!
We needed: Pruning shears, gloves, water, & clothing appropriate for walking through high prairie grasses
Social, snacks, & beverages followed the harvest.
---
Our Fall Plant Sale SOLD OUT!
Thank you to EVERYONE who volunteered or participated!
If you have a Wish List, Please let us know for the Spring Plant Sale!
Click HERE for 2022 Marcie's AWESOME August plant details with photos!


---
---
Our featured recorded programs:
2022 Spring Plant Sale:  "Meet the Plants!"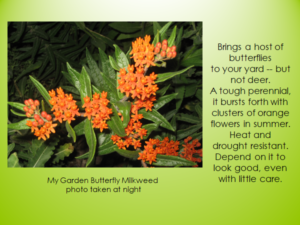 ---
Dawn Snyder, Woodbury County Education Programs Director, takes us on a virtual tour of the Fabulous Wildflowers in Fowler Forest.  Dawn has tons of fun facts about our native Spring Ephemerals.  After being inspired by Dawn, you might just want to take a drive and check out the wildflowers for yourself.
---

"Grow and Tell"
April 11, 2021
Thanks Becky & Dianne!

---
March 2021
Thanks Michelle!
---
February 2021
Thanks Dotty & Dave!

---