During the growing season, we host tours of natural areas and residential and community gardens that feature native plants.
Recommendations for a good experience:
-Bring something to take notes with (pen/paper or your phone).
-Take photos.
-Wear sturdy walking shoes because the ground can be uneven in places and grass can be slippery.
-Provide your own shade with a hat or a handheld umbrella.
-Wear sunscreen.
-Bring repellant if you wish, applying especially to the lower legs if they're exposed.
-Bring a bottle of water or another beverage; you can refill it at most of the garden locations.
-And, bring a friend!
---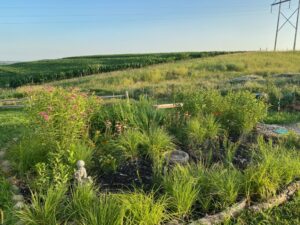 Garden Walks TODAY August 19th!
 Loess Hills Wild Ones is hosting TWO Garden Walks near Hinton in Plymouth County on the morning of Saturday, August 19.
The first tour is at Hillview Recreation Area near Hinton from 9:00 – 10:00 a.m. This area is managed by the Plymouth County Conservation Board. Meet at the Dennis L. Sohl Center for Outdoor Learning to stroll through the native wildflower gardens and rain garden. Hillview is located at 25601 C60, one mile west of Hinton, Iowa.
The second Walk is from 10:00 a.m. to Noon. It is located at 1250 Tucker Hill Drive in Hinton, at the home of Danielle & James Metzger. Metzger native gardens were started in Spring of 2020 and are ever expanding with each passing year. Each garden has a name and was designed by Danielle using plants mostly from Loess Hills Wild Ones native plant sales.
Most of the rock borders for the gardens were transported from Danielle's father's farm located in Buena Vista County. Danielle has a love for grasses and sedges and her favorite wildflowers are the different species of Purple Coneflower Echinacea and Butterfly Weed Asclepias tuberosa. Her love of the Monarch Butterfly is what sparked and ignited her joy of native gardening.
The garden tours are free, open to the public, and are open house format!
Bathrooms and refreshments at both sites!
---

Jenny J. 4158 Sherwood Terrace
Marcie P. 3301 Walden Avenue
Tom & Cheri S. Yard of the YEAR


2801 S. Cecelia
---
We had such fun September 10, 2022- Riverside/Stone Park area at:

The 'Railroad Museum Gardens' Hwy 12
The Dorothy Pecaut Nature Center 'Butterfly Gardens' Hwy 12
The 'Friends of Stone Park Memorial Pocket Prairie' next to Equestrian parking lot East entrance
The 'Wild Mess In Progress!' Talbot Road
In August we visited:
August 20: Leeds/Hinton area:
Chapter Secretary Danielle Metzger's 'Joy Garden and Prairie'
"The Plante Chateau" Rosanne Plante gave us detailed information about her role as a "Wild Lawyer" volunteer with Wild Ones.
In July we visited:
July 23: Morningside area (Sioux City)
Jenny Jorgenson, Sherwood Terrace
Marcie Ponder, Walden Avenue
Cheri and Tom Stewart, S. Cecelia Street 'The Old Fence Garden'
July 30: Northside area (Sioux City)
Rex and Maria Rundquist, Norman Drive
Caitlyn Drey, Nebraska Street
Katie Thompson, Jackson Street 'The Eclectic Garden of Bits & Pieces'
'The Flower House', Jackson Street
---
2021
Our August 14 tour featured Sioux City Community Gardens (which you can visit anytime on your own!):
First Unitarian Church (2508 Jackson St.): 9:30 to 11:30 a.m.
Agape Community Garden (1421 Geneva St.): 10 a.m. to noon
Shepherd's Garden (6th and Nebraska St.)
The August 28 tour took us to Hinton and Le Mars.
Our final garden walk of the season featured the Riverside and Stone Park area on Saturday, September 11. Visit renovated gardens at the Dorothy Pecaut Nature Center, new plantings at the Sioux City Railroad Museum, a Pocket Prairie managed by the Friends of Stone Park, and member Ruth Rose's property.
Check out our Facebook page for photos from past walks/tours!