We promote planting native landscapes in Iowa, South Dakota and Nebraska.
---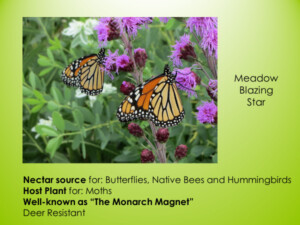 If you ordered plants, we'll be in touch early May with details on how to pickup your order the weekend of May 15th.
---
---
Our Next Program:
Fabulous Wildflowers in Fowler Forest

Online- Sunday, May 2
, 2021 at 2 – 4 pm CST
Join Dawn Snyder, Woodbury County Education Programs Director, as she takes us on a virtual tour of the Fabulous Wildflowers in Fowler Forest.  Dawn has tons of fun facts about our native Spring Ephemerals.  After being inspired by Dawn, you might just want to take a drive and check out the wildflowers for yourself.
Click Here to Register (to receive an email with the meeting Link)
---

"Grow and Tell"
Held Sunday, April 11, 2021
Thanks Becky & Dianne!

---
Plant Diversity for Life!
Held March 2021
Thanks Michelle!
---

Feather Your Garden with Natives-
Held February 2021
Thanks Dotty & Dave!

---