We promote planting native landscapes in Iowa, South Dakota and Nebraska.
---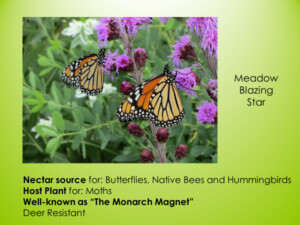 ---
---
Our Next Program:
Plant Diversity for Life!
Online- Sunday, March 14, 2021
at 2 – 4 pm CST
Michelle Biodrowski, Naturalist for the Pottawattamie County Conservation Board, and President of the Iowa Prairie Network, will present "Plant Diversity for Life!".  Michelle's highly enthusiastic and has many creative ways to add native plants to your yard. Whether you are a novice or a master gardener, Michelle will have ideas that you can adapt to your space.
To learn more about Michelle and her thoughts about planting native, click on this great interview: The Blooming Farmhouse with Michelle
---

Feather Your Garden with Natives-
Thanks Dotty & Dave!

---